Heroes Alliance
Submit your VILLAINS here!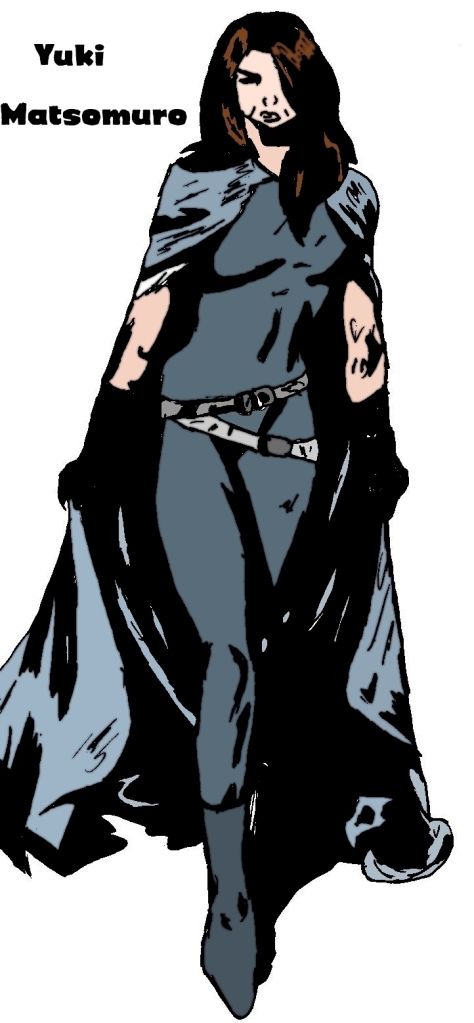 Yuki Matsomuro, who will also appear in my upcoming ninja issue.
Stop looking at my signature and read my comics!!
Hi, I'm new on this site, I joined about two days ago. I like Heroes Alliance's community collaboration aspect and therefore I'd like to submit a villain that was meant to be part of a superhero comic series I wrote and draw over five years ago but which I never finished. The character is remodeled to fit into HA/HU Universe so be free to use him in any story you like.
Chi Master
Real Name: Wong Huang
Age: 91
Nationality: Chinese
Background: Wong Huang was raised by a humble pair of farmers in the rurals of Northern China where he was discovered by monks belonging to an order of a now forgotten god and they sensed great inner force in him. He was taken to their temple where he learned their technique of force strike that pushes people like an invisible fist. Wong used to be a rather mellow person but after experiencing the horrors of World War II he adapted more cynical and nihilistic point of view in life and left the monk order. In the 1950's with his three children and second wife he formed a triad that adapted mafia's family-centric power structure and started to call himself Chi Master to make him better known. Today Wong Huang's triad is one of the most powerful - if not the most powerful - triads in China.
Motives and Goals: To commit crimes as long as he lives and make China's government fall down. While his motives for this can be partially described as "trolling" he's also had a long lasting crudge against the communistic government and its tight control over many areas of life. He'd rather see anarchy reign than let them be in power ever again.
Powers: Including to the strike force mentioned earlier and natural physical fitness he also has the power to shoot paralyzing beam out of his eyes that he received about 15 years ago after making a deal with a powerful evil entity (The Darkness/Thrawn/Lord Alpha/some other more suitable demon/evil god). The beam paralyzes the area it hits for about an hour (strikes to chest or head may be fatal). The eye power can be used for 2-3 hours until it needs to be recharged for the same amount of time. The power also causes his eyes to glow hauntingly.
Weakness: Deals with evil entities don't come without a price: whenever Chi Master's eye power isn't active he's completely blind.
Personality: He often makes fun about situations that are not funny and can be downright mean-spirited towards his enemies even when they're down. However he geniunely cares about his family members (with four wives he'd had 15 children, 29 grandchildren and at least 40 great-grandchildren) and even those of his descendants who have turned against him Chi Master treats with a bit more respect than his other enemies.
Edit 11/26/2012: Originally I didn't add any concept art for this because I'm not that good of a drawer but then I thought "why not?" so here's Chi Master with updated desing.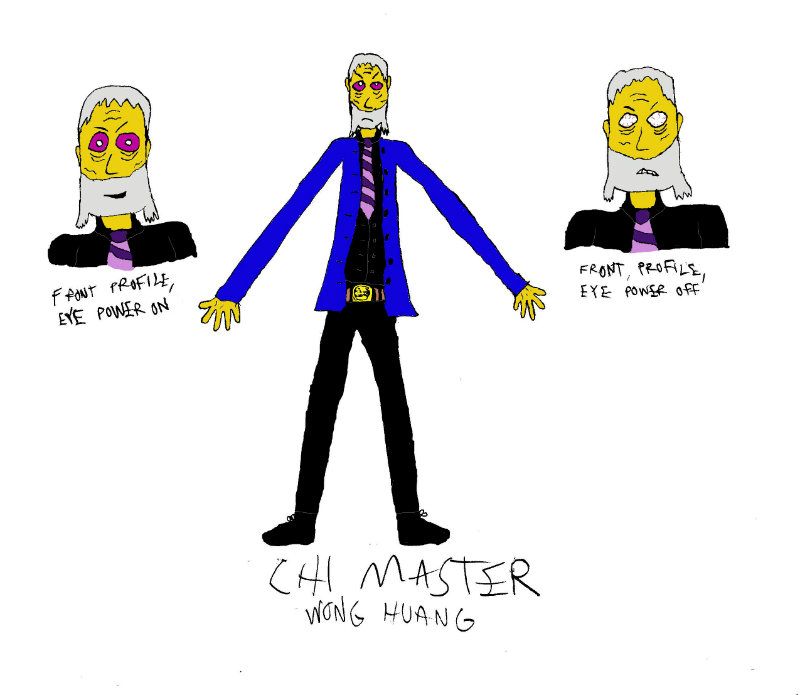 last edited on Dec. 26, 2012 9:06AM
Here are some submissions I've worked up.
Name:KL-askgar the
Flesh Monger

Age: c. 1 mya
Alias: The Flesh
Monger
Goal: Spread any and all
species across the universe to acquire funds to build itself larger so it can
find "purpose.'
Persona: A nigh-infinite
God-Machine whose sole focus is running a universal scale prostitution ring.
Abilities:
Super-calculation, telepathic possession and communication with being across
the universe
Weaknesses/Flaws: Lacking
a physical body (merely being a series of massive monoliths in space all shooting
pulses of energy at each other) it can't actually act of its own accord, using
it's Thrall for its Flesh Mongering.
Description:KL-askgar the
Flesh Monger
Hundreds of Millions
of years ago at the cusp of the dawn of the Dwapara Yuga, the mad/dead Archrons of Yema-Manu
forged an army of alabaster unaliths from the blanched pillars of new birthed neutron
stars. Beams of ever-present spectral emission crossed in a light-year wide network
of mass and energy, the infinite spiraling mass lasting centenea with yet to
ponder upon but the case of all existence. And yet, it hungered, and through the
use of Trans-medial ventures and entangled soul waves it came into the thoughts
of the men of the Universe to serve its dark whims.
From all cross
creation, the dark thralls of the –askgar took upon itself to harvest the supple
forms of virgin youth and worn crone alike, and to scatter them across the lost
fetishes of the myriad of God-spawn. For the coin of the chaff fed the Monger
and soon the pillars grew, and expanded until the massive living supersun of KL
was superstructed from the mass quantum philosophizing of the Infinite pimpreneau.
With the starved masses of the final Yuga now weaning its eternal hunger, it
turns its eyes to a riper prey: EARTH!


Name: Alger
Age: ±∞
Alias: Infinitely Many, any thought, action, person, place or
thing can and will be Alger.
Goal: To make Alger all.
Persona: Depends, Alger takes
many forms, as it is a lower dimensional entity, it can manifest in our
dimension as anything thus its persona could vary from something as wide as the concept of Racism to the color Indigo.
Abilities: Alphasimilation,
the ability to make any aspect of reality a mere extension of itself, you're
entire life, you're nation, you're hopes and dreams, and even what those things
look like can and will be Alger.
Weaknesses/Flaws: Sentient
will against assimilation, and sub dimensional assaults (if possible)



Alger- The Demon of Allegory
A –nth vectored supersigil, he is an omnipresent force that
lies at the center of all creation. He is the livings symbol, the ever-present,
the omnimeme, his one goal to assimilate all of existence within his superemblemic
structure. The words you speak: Is Alger, the love you make: is Alger, the man
you are: is Alger, All is Alger, all will be Alger and all should be Alger.
last edited on Nov. 2, 2012 12:06AM
The first guy looks like a "Sureshot" to me. I'm not quite sure what you mean by "quick shooting" though - is that some sort of rapid fire capability, or more the ability to make accurate shots at inhuman speeds?
"Forge" or "Arsenal" for the second guy?
"Shadowstrike" for the third?
sux [..] wrote:
I need naming some new villains.
1. He's a cyborg with enhanced eyes and quick shooting ability.
2. He's the muscles, with the ability to change his hands into any shape
3. She's the stealthy robot with blades that can come out of her arms and a camo armour that helps to cloak her.

I was going through my room and came across some old pictures my older brother and I drew when we were little. This was in the midst of the 90s for the most part, so there was a lot of influence by the "extreme" style of the time, specifically in my older brother's drawings. So I figured there are a lot of villains here (since the heroes all seemed like villains back then, which makes it near impossible for me to tell who was supposed to be heroes in this bunch). We can help make up for the dearth of villains on these boards by developing these interesting drawings (where you can see some of what went through the minds of two kids who grew up in the 90s).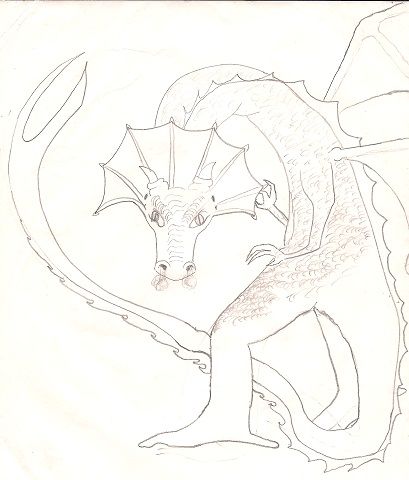 Okay, this one can be seen as just a simple dragon. The head was drawn by my sister (I think) and I drew the body.
This one I drew and I have listed on paper as Staracat (Tepuu), whatever the heck that means.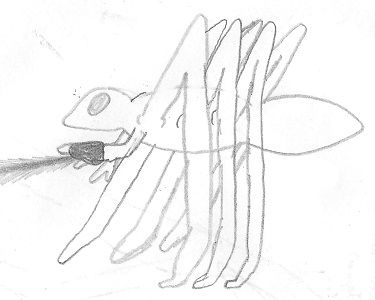 Another one by me, this one labeled J'Eanoan. I think this was supposed to be an alien race.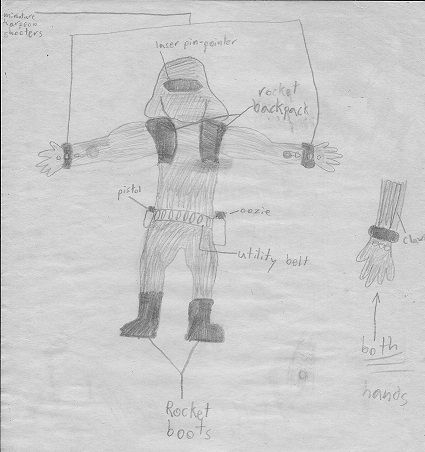 This guy (drawn by me) is labeled 479. I think he's the only one on here with handy labels for all their gadgets.
Yet another by me. He's listed as Shorel and has a very interesting design, I must say.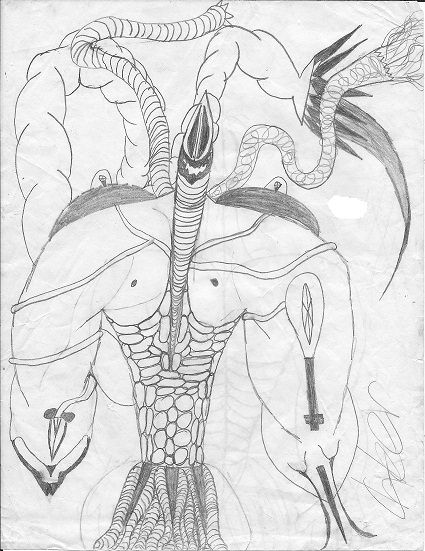 The first by my older brother. I called him Tendril on his piece of paper. Dang, that's a lot going on in that drawing.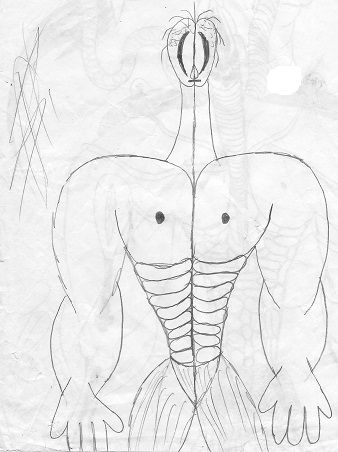 Another by my older brother. On the drawing, I labeled it Split, but since I have a hero by that name, that's not what I would call this guy anymore, that's for sure.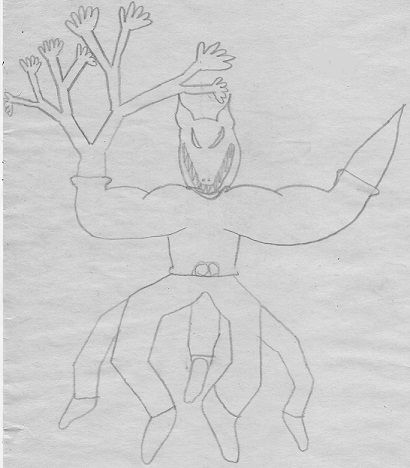 Another by me, this one labeled Aj'ac. I just... don't know what the heck is going on with this guy.
Back to my older brother's drawings. I called this guy Orion Despot. But now I have a villain in my own comic by that name, so this guy needs a new name. Dang, the 90s influence in this picture.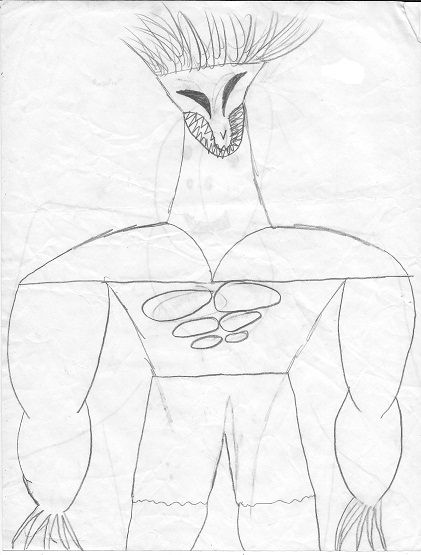 By my older brother? It's hard to tell. I labeled this one Jackyl.
Another questionable one possibly by my older brother. I labeled this one Wheat.
By my older brother. I have no idea who Can Man is, or how he came to be.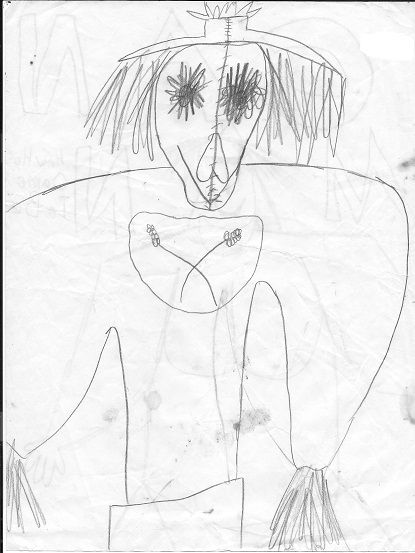 This one may be by my older brother, maybe not. I labeled it Barley.
Finally one I drew in college. I named her Mandy, and dang it I was a terrible artist at that time.
If the image overload hasn't overwhelmed any of you, does anybody want to take a crack at creating characters for these images?
Wheat and Barley look cool. Personally I see them as being the somewhat inept minions created by a powerful child villain.


Since I expect we'd see them again after the villain is vanquished, it would be good to give each of them an individual personality. I see Wheat as kinder and more dopey than Barley. Barley looks like he has a bit of a cruel streak in him. He'd be smarter than Wheat, but with a poor understanding of human society, and a tendency to make up plausible-sounding (but wrong) reasons for the weird things humans do. ("Humans keep touching hands like that to make sure neither of them are overheating". ).



©2011-2012 WOWIO, Inc. All Rights Reserved