Pixelated! is a manga styled series by myself. I have recently finished writing the majority of the plot and have now begun pencilling for the first chapter.
I hope to have the first chapter online by Christmas. For those of you who are fans of my sprite comic, Pokemon XS, don't worry, it will continue being updated weekly.
Here's the pencils for the cover of chapter one(click for larger view)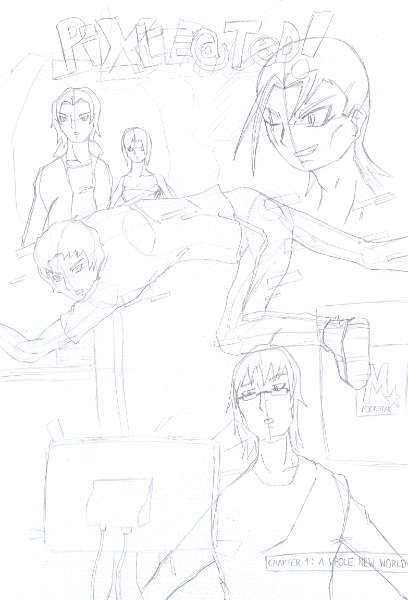 Basic Plot
Sean is a nerd who likes to create his own video games on his PC, one day, he has his friend Craig come over to reluctantly test play a near complete version of his latest game, however, an error occurs in the prgram and the PC itself starts to glow.
Sean blacks out and awakens in a foreign land, but one that he recognises - it's the world he created, he's in his own video game, and so is Craig!
With a new save file started and the actual hero and villain nowehere to be seen in-game, Sean and Craig start to try and find a way back home.
Characters
Sean
(The one in the dead center of the cover)
Sean is a nerd with a social life, he likes to make his own games in his spare time and is near completion of his latest project.
He goes to Art School on a Games Design course and seesit as a way to boost his grades, he also believes that it's more than possible to have a beer while getting those grades.
He tends to think quite logically and with an open mind. He works in an almost mathematical way, solving problems by theories and logic.
Craig
(Bottom of cover)
Craig is a College drop out and spends alot of time lazing around. He's rather cynical and sharp witted but is a master of socialising and psychology, he just can't be bothered to get a degree.
He doesn't believe he can be inside a video game, figuring it's either a bad dream, or he's really, really, drunk.
Vann
(Male, top left)
Vann is the game's main character, strong, virtuous, and everything else you'd expect from a clean shaven protagonist of an RPG.
His current where-abouts are unknown.
Zhyge
(Top right, huge head)
This is our villain, he killed Vann's father and is everything you'd expect from a maniac antagonist in an RPG.
He also went missing at the same time Vann did, which happens to be the same time Sean and Craig entered the game world.