Hi ^_^
So here's my comic and I'd like some crit/comments on it.
It's a BL story and I hope you'll like?
Thankies! *run off* >///<
http://www.drunkduck.com/Loverboy/

Intro
A Loverboy is a guy who hunts for victems who can work for him in prostitution.
He makes his victem fall in love with him and buys very expensive gifts for him/her.
Then after he has total control over the victem he wil say that he has no more money and forces the victem to work for him in prostitution to gain money for him.
Remi is a boy who fell for a loverboy.
He now tries to escape from him and seeks help from another guy.
aaahh I'm really bad with intro's XD

Remi Spader
He's the main character.
A perverted little uke XD (yes he looks girly)
He fell in love with a loverboy who now uses him for money.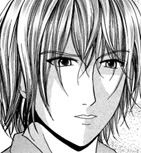 Ray Valentine
A crampy Seme (OMG he's a virgin XD)
He appears mean at times but cares a lot about the little boy who faited in front of his home.