going away - Hey Everyone Look What I Did!
A twisted superhero story meshing Golden Age lore with dark art.
Next update is soon.

Your art is very intriguing, I like it a lot. The story seems pretty good too, but truth be told I stopped reading after a few pages because I grew tired of wading through the filler. It's generally a bad idea to have that much filler so early in the comic's run; you should probably get rid of it so that new readers can have an uninterrupted story.

A nitpick: I am very annoyed by the combination of hand-drawn speech balloons and digital fonts. Aesthetically, they should match. Also, tons of comics use Blambot's Digital Strip (I believe that's the font you're using). You have a unique comic: your choice of font should be equally unique. They have ton of dialogue fonts over there.

All in all, you have a pretty cool comic. Just clean up that filler. Please.
last edited on July 14, 2011 1:15PM
I agree with what the poster above me said.
I really liked the last page, but then I clicked "First" to see what it was all about and there was a lot of filler and I got bored.
Your art is really catchy, very interesting to look at, but we are beings of lesser patience here on the internets, and I would have liked the story to start sooner.
I know it's a really annoying nitpick, but it's still true to me.

I seriously like the artwork and you have some interesting dialogue as well!
I'll wait and see what else happens. :)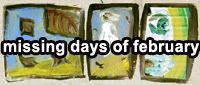 last edited on July 14, 2011 1:48PM
Thank you both for the suggestions!
These are the things I don't think about when putting the comic together, so I appreciate the time you took to comment! The overall flow of the comic shouldn't have so many speed bumps. I know I've been turned off by webcomics before making the same mistake with filler.

So, the filler is all gone. I did however leave in the "artifacts" from the silver age, as they're more of a storytelling aid and a lot of people have told me they were attracted to the comic with the old-school feel of those pages.

The dialogue balloons always bugged me. And I haven't found a (legible) font I've liked. I have considered hand-writing all the text...and a few of the more artsy pages show me dabbling in this. I just went for legibility. And it does look disjointed in a comic where even the frames are bathed in organic style.

Here's hoping you both take a gander at a more user-friendly story. And I look forward to showing you the upcoming pages.



Your comic is very creppy, very weird and unbearably violent.
Yeah, basically, I really like it!
I love the strange distorted style of it all. I am always drawn to webcomics with a unique look, and yours certainly has that.
You just need to update faster!

For more Harkovast related goings on, go to the Harkovast Forum
last edited on July 14, 2011 12:42PM
Been a while since the last update, but I've been quite busy!

I've taken feedback into thought and the new page (page 16) incorperates these changes.

Please feel free to critique.

©2011-2012 WOWIO, Inc. All Rights Reserved