going away - Art & Literature Corner
way to meny threads by that skullbi person
omg
Quick little thing, not finished i've got to ink the water: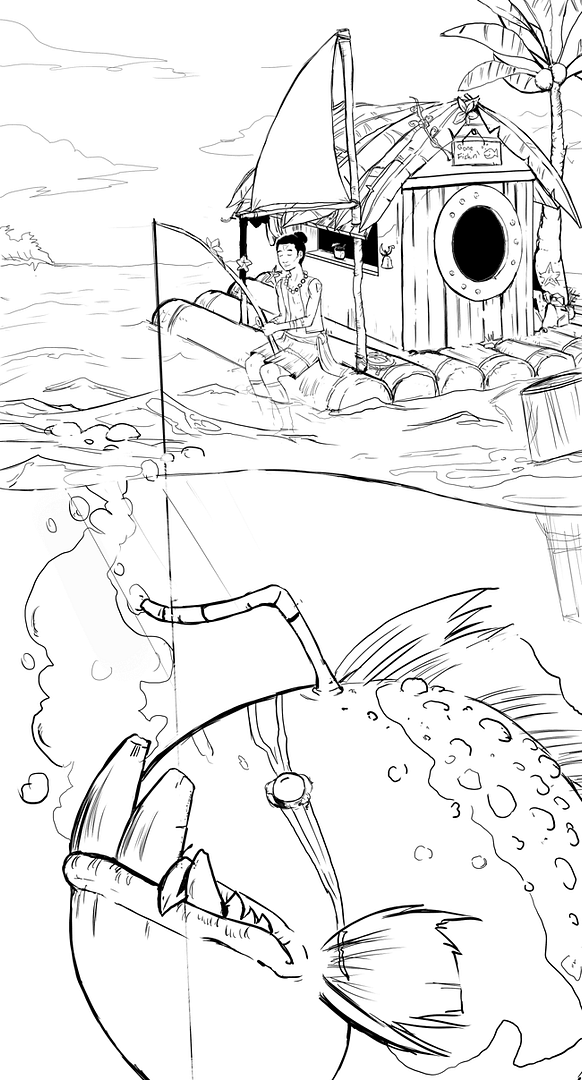 :)
ZULU94
at 7:01PM, June 30, 2009
O o
/¯/___________________________ _ __/
| IM A FIRIN MAH LAZOR BLAAAAAAAAAAARGHH!!!!
\_\¯¯¯¯¯¯¯¯¯¯¯¯¯¯¯¯¯¯¯¯¯¯¯¯¯¯¯ ¯ ¯¯\
last edited on July 14, 2011 5:02PM
There should be a really tall saguaro cactus in the background with a monkey on it throwing bombs at that guy.

And there should be a lemon floating next to the fish because it fell from that tree on that island.

Billy vs. Tree -- The epic struggle of boy versus tree.
Sonic Colores -- It looks like it's going to be a good game because I love how the way it makes me grow.
last edited on July 14, 2011 12:51PM
Haha, I love that fish(the rest of it too...but especially the fish).

I think it might look neater if the fish was actually about to bite on the bait, though, or even just looking at it, rather than having the line go right past it.
last edited on July 14, 2011 12:49PM
Thanks you guys :)

I had the hook being hooked into his feeling thing before but realized then line wasn't deep enough on a 'logical' outlook(even though it's a fantasy boat/fish thing)

I spose all i'd have to do is extend the height of the pic, that would probably make the composition nicer too. :)
i dont mind...
A&L doesn't get as much love compared to other forums.
=/

i like yer art, keep it up
last edited on July 14, 2011 4:04PM
ooh awesome...

one little crit: the floating log doesn't look cylindrical on top- the edges look too pointy.

But all else is great. I love the "gone fishin'" sign.
last edited on July 14, 2011 1:23PM
last edited on July 14, 2011 2:41PM
©2011-2012 WOWIO, Inc. All Rights Reserved