going away - Hey Everyone Look What I Did!
Plug YOUR comic on MY comic!
My comic Bounty is on commercial break... And you can get in! Post here, or on my comic, if you want your comic in oone of my ads. Ads should be going on till the end of next week. All I ask for payment is a plug to mine from yours! Jus, y'know, on one of your author comments.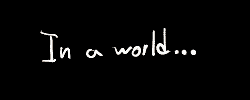 "The only moral it is possible to draw from this story is that one should never throw the letter Q into a privet bush, but unfortunately there are times when it is unavoidable."
-Douglas Adams, The Restaurant At the End of the Universe
last edited on July 14, 2011 4:25PM
I woudl like to get in on this, if you don't mind. Could you go into a tad more detail?
last edited on July 14, 2011 2:57PM
©2011-2012 WOWIO, Inc. All Rights Reserved