Have any to add to this list? Post em' here!
Source:1up.com
Infamous
I don't blame you for not knowing the name "Sucker Punch Productions" right off the bat. Its games aren't as grandiose or as visceral as something like Killzone 2 or Gears of War 2. The phrase "great platformer in a kiddie wrapper" accurately describes the studio's output to date (three Sly Cooper games, plus some N64 game about a one-wheeled robot, Rocket: Robot on Wheels). But hey, if director Alfonso Cuarón can go from Harry Potter and the Prisoner of Azkaban right to Children of Men, so can Sucker Punch go from Sly Cooper to the dark, open-world superhuman action game that is Infamous.
We got to talk a bit with game director Nate Fox of Sucker Punch about the development of Infamous, and while we didn't straight out ask what's it like to go from a furry platformer to a real game, we did learn some interesting details, like what influence a real-world riot has over a superhero game and just where the heck did the idea for mind-reading electricity come from.
MadWorld
If you had asked me a year ago, I don't think I could have imagined that one day I'd bring up a question in an interview about performing a curb stomp using the Wii Balance Board. But MadWorld is the kind of game where you have to ask, because you never know. You might think it's a ridiculous question, and later find out it's been in there all along -- this is a game that features a trumpet laxative as one of its moves, and a boss named Herr Frederick von Twirlenkiller (pictured below) that throws cows at you.
It's also arguably the most promising Wii game on the way in 2009, so I tried to mix in a few real questions among the silly ones when I sat down recently (along with Editorial Director Sam Kennedy) to interview producer Atsushi Inaba and director Shigenori Nishikawa.

Grand Theft Auto: Chinatown Wars
When Rockstar announced that their next Grand Theft Auto was heading to DS, lots of people had questions -- would it be 2D or 3D, would it play more like GTA4 or the classic GTAs, etc. And while some of those have been answered in bits and pieces over the past few months, we recently had a chance to open the floodgates via an exclusive interview with Gordon Hall, head of developer Rockstar Leeds. Read on to find out what GTA: Chinatown Wars is all about.
Star Wars: The Old Republic
BioWare has an amazing track record as role-playing masterminds, but their newest project, massively multiplayer online role-player Star Wars: The Old Republic, faces a huge challenge: making players feel at home in such a beloved universe while differentiating the game from the tough MMO competition. Although the speculative 2009 release date has not been confirmed, we recently talked with company founders Dr. Ray Muzyka and Dr. Greg Zeschuk, principal lead writer Daniel Erickson, and studio creative director James Ohlen, to find out how they'll tackle this dilemma.
The Sims 3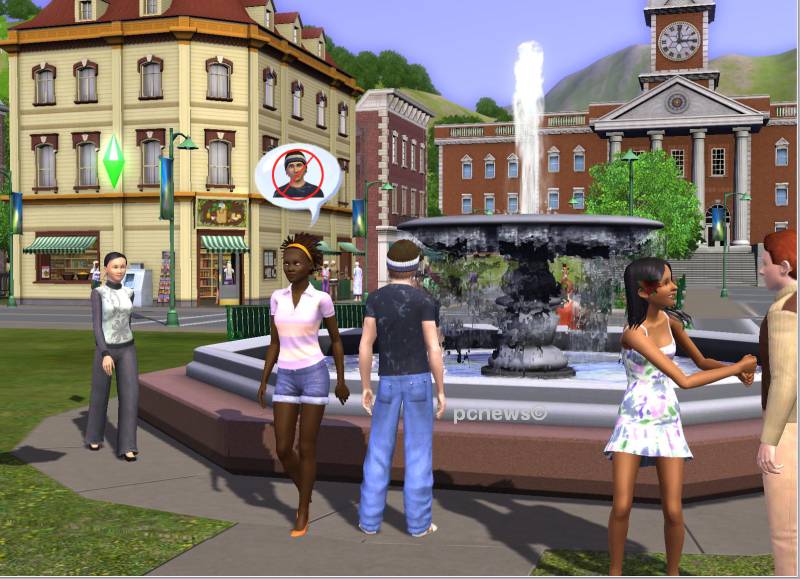 What's left to say about The Sims 3? The game's coming out in February 2009 -- and earlier this year, we ran an exhaustive cover story in Games for Windows: The Official Magazine. But for those who are simply Sim-curious, what's all the hoopla about? We asked associate producer Grant Rodiek to give us the rundown on the third numerated entry in the popular PC franchise. And take a look at the new trailer, featuring Sims 3's Create-a-Style (and a lot of pursed lips).

Batman: Arkham Asylum
That comics fans rarely receive even average videogame interpretations of their favorite superheroes is frustrating enough. That no one's managed to make a kickass game from the adventures of such a seemingly obvious choice for virtual beatdowns as Batman borders on criminal. The latest attempt to right this longstanding wrong comes courtesy of Eidos and Rocksteady Studios. We spoke with art director David Hego and game director Sefton Hill to get the lowdown on how this team's attempting to break the curse of the Bat and finally bring Bruce Wayne into the videogame spotlight.
More at:
http://www.1up.com/do/minisite?cId=3171537
If you ask me, Batman and Sims 3 are my top picks...