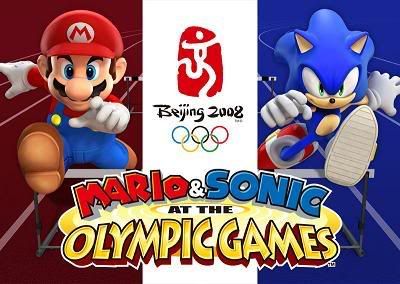 Yup, if you haven't heard of it, as far as I can tell, it isn't a joke...
I can't tell if this is a good or bad thing. It's gonna be totally inaccurate because Sonic will obviously win every running race unless they make him just as fast as Mario, in which case what's the point.
In my opinion Mario games are better than sonic ones (
JUST AN OPINION!
) but sonic has his homing attack, he can spin at people, he's super fast, and
gives life advice
where as Mario...erm...Mario likes to dress up...and erm...he can
do the Mario?
(listen to the words! doing the Mario is WALKING). What's my point? These two will be remembered as the 2008 Olympic mascots for the youth of the world...sonic I understand...but a fat plumber who sings about walking?
The game is being made for the 2008 Olympics...I've played one or two Olympic games in my time, they have all been horrid
Dose the Wii need yet another collection of mini-games stuck together for drunken parties? Almost every game released has a mini-game collection in it now.
Will this only get sonic fans hopes up about the little guy being in SSBD? We should start to accept now, with only about 6 months left till the game is out in the shops...chances of sonic being in SSB is veeery slim now.
Anyway, these are just a few badly written out points (I've got the 'do the Mario' on loop now so I can't here myself think), but I want to here other peoples points of view on the game, so I'll shush up.