Great, post got deleted (as did all the ones posted before whatever the server just did). Second attempt (luckily I posted it elsewhere too, so that I could easily recover MOST of it).
This is for the latest page of Carnivore Carnival (Planet Adam page 5).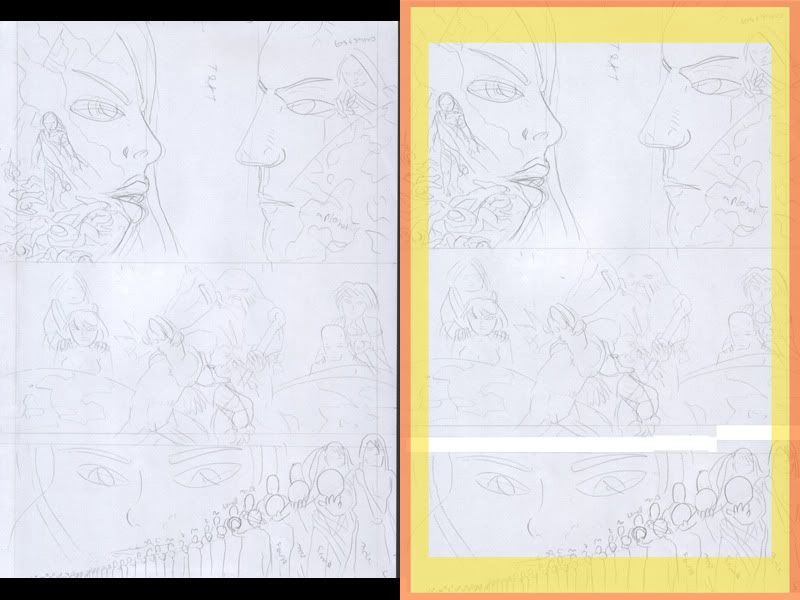 First are the loose pencils, done on A4 paper (had to actually rescan them cause I deleted that version off my pc).
These get thrown into the Ka-Blam template (since I plan to print my comics through them) and are tweaked a little. As you can see, the A4 page came off a bit short, so I had to move the bottom panel a bit lower.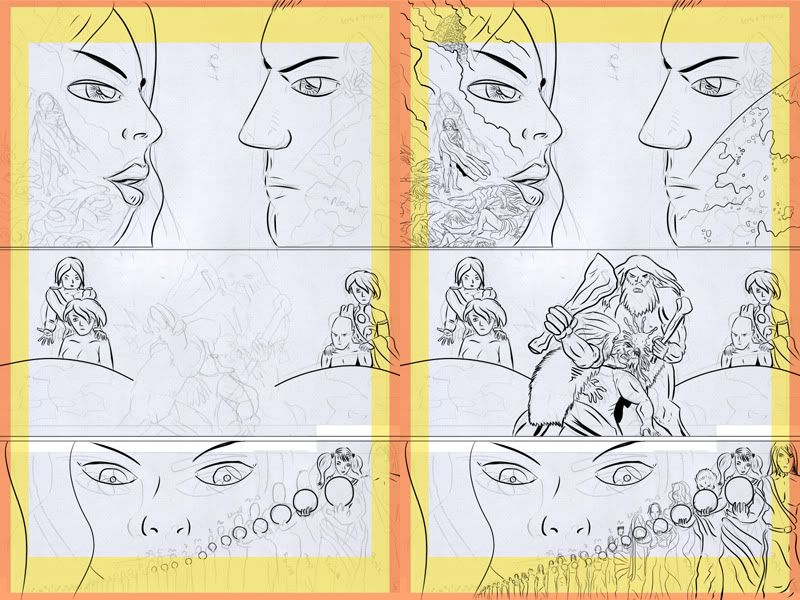 With the pencils prepared (and usually with the opacity lowered a bit so that they're lighter) I start inking the major outlines and do the straight lines for panel borders, curves for planets etc.
The guy standing on the field of dead is totally redrawn as he's too big there, and so do the rather wonky eyes on the bottom panel.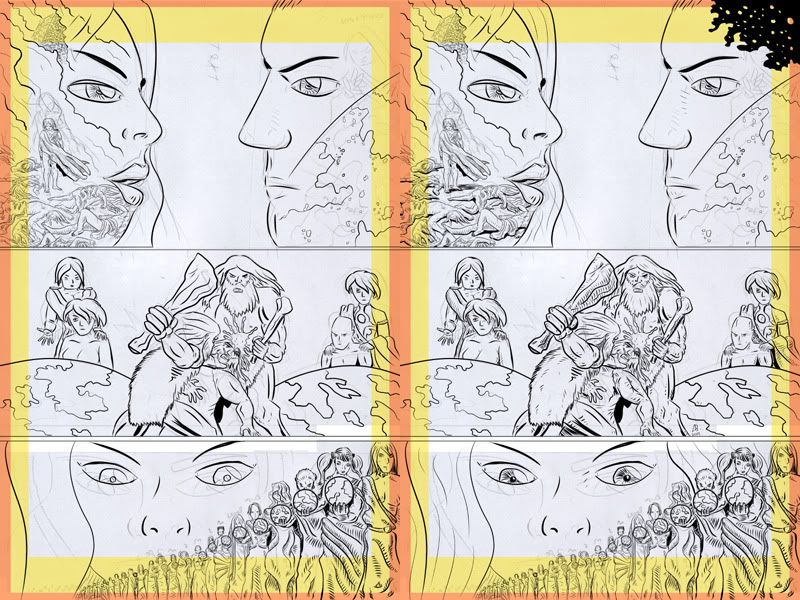 Then come in the details, done on two separate layers, which basically concludes the inking stage. I did them this way so that I could avoid destroying anything already done well while adding new stuff/erasing it.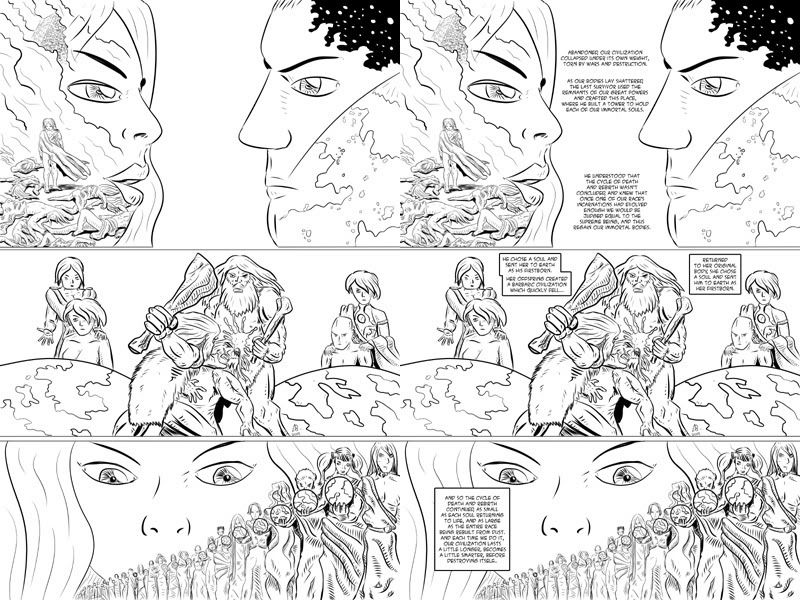 The Ka-Blam template is mostly turned off at this stage (other than for figuring out how far to keep the lettering from the edges of the page). Pencils layer is deleted, art is flattened (I wish I kept the shading/detailing on a separate layer though, would save me a lot of trouble while flatting). Then comes the lettering (generally a rough draft that later gets tweaked for spelling/grammar/placing, but since I'm reconstructing this from layers you get to see the final version), which is done in Photoshop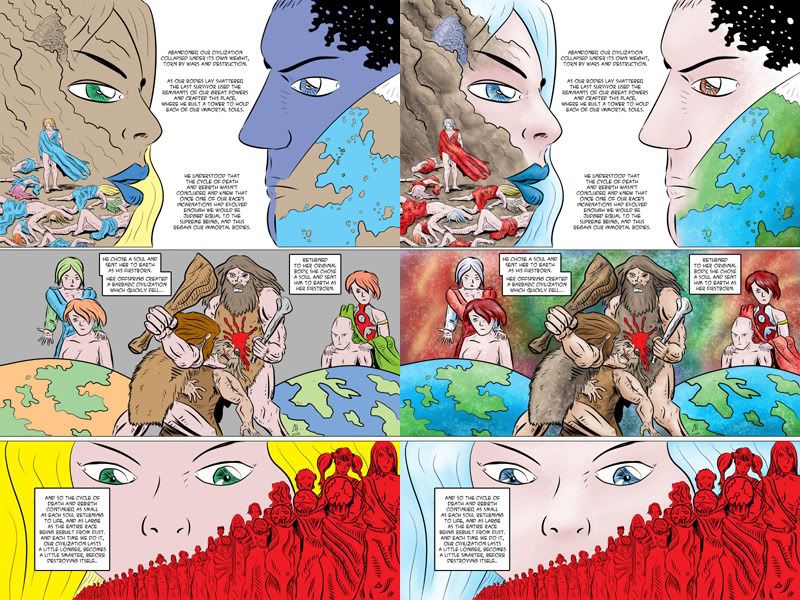 And finally.. colors!
First, flatting the whole mess (I hate that step, argh). Generally flatting on this piece went like this... click on area, notice I failed to properly close it off, deselect, zoom in, find the little gap between pixels, draw a short line to fill it up, repeat, find another gap... finally either give up and polygon lasso the whole mess, or end up plugging all the leaks and then just expanding the selection by 2 pixels. Then, fill it on the "flatting" layer and repeat for other areas.
I can't really recreate the coloring process itself beyond that, but generally it went like this: first I locked the flats layer, then opened a new one for colors on top of that. Choose flats layer, magic wand the desired area, choose color layer, fill it with either flat color or white (white is good when you want to use brushes that are not 100% opacity, more about that later).
Then slap on the actual color with whatever brushes you like. Here's where the white fill comes handy. Some of my custom brushes need to be used in modes like screen or multiply, and if the layer you draw on isn't fully solid, things go haywire.
Whew, turned out longer than I thought.
Anyway, once coloring is done, the piece is done.