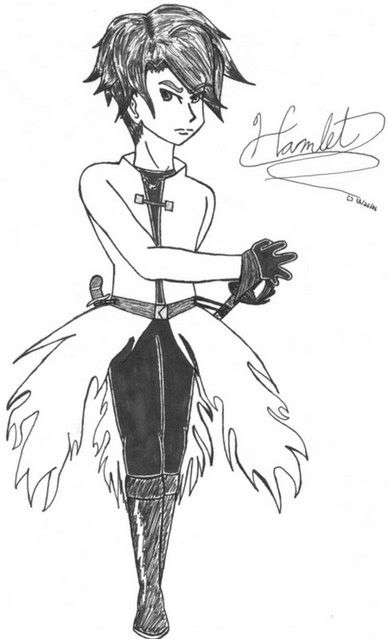 Horray for Shakespearean characters! :D
Name:
Prince Hamlet, 'Princey' if you want to piss him off
Age:
18
Height:
5' 9"
Hair Color:
Black
Eye Color:
Ice Blue
Outfit colors:
Black undersuit and gloves, white trenchcoat, and dark grey boots, belt, and cuffs
Personality:
Hamlet is an extremely cold and sadistic person. Hatred, spite, and a strong desire for revenge are the only emotions he seems capable of every since his fathers mysterious death. All Hamlet wants to do is reclaim his rightful place on the throne of Denmark and he will do whatever it takes to accomplish this. Most people see Hamlet as a selfish royal brat, which is what he is. Hamlet is extremely intelligent and sadistically enjoys playing sick mind games on people. Hamlet can also lie very convincingly to others and quite of few people think that he is insane.
History:
Hamlets father, King Hamlet, was mysterious killed recently, but before Hamlet was able to rightfully claim Denmarks throne, his Uncle Claudius bumped Hamlet out of line by marrying his mother Queen Gertrude. Hamlet is infuriated over his mothers actions and his lost of the throne, yet he due to the powerful dark magic that his Uncle wields, he cannot use brute force to defeat him. His desire for revenge against his Uncle Claudius, whom he strongly suspects is his fathers murder, is extremely strong however.
Weapons:
A Swept Hilt Rapier Fencing Sword and a Kriss Dagger
Powers:
Intelligence, manipulation, cunning, agility, and excellent sword skills
Weaknesses:
Angers easily, suicidal tendencies, tends to get too caught up in his own selfish desires, often times looses sight of his goal to indulge his sadistic nature of making others suffer, fits of insantiy(?)
Reason for entering Flightsplosion:
In order to get back the throne, his Uncle Claudius told Hamlet that he must prove himself worthy of the title of King of Denmark by winning Flightsplosion.