Comic Review
DD Review of the Star Droids
last edited on July 14, 2011 12:19PM
There aren't many Megaman sprite comics I like, but this one gets the job done.
Graphics: It's got good effects, although the motion blur is used a little much... Phantom EXE is really good at using the Paint/Photoshop combination. All of the sprites of the Megaman sprites are really good, but it's hard to tell if Phantom EXE made/recolored them (the planet bots were black and white) or the guy from MS Paint Masterpieces (It's a Megaman comic that did an extraordinary job spicing up Megaman I) did. Also, the guy doesn't line up the pixels right, which makes the comic look kinda sloppy at times.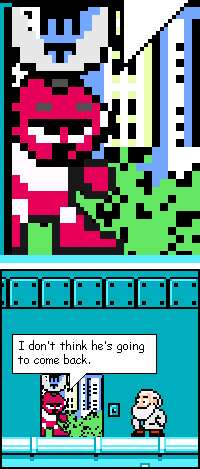 I can't say that I haven't done that before...
Plot: They took the plot from Megaman V (for the Gameboy) and spiced it up. Normally that'd be fine, but a lot of times it seems like it's too similar to MS Paint Masterpieces. But, it's nice that it doesn't have the same amount of fillers MSPM did, and he did make an effort to put humor in the comic.
Humor: It could use a little work, a lot of the jokes are stale. Some of the jokes are good, but a lot aren't.
Other notes: Around number 50 it starts to become less about Megaman and more about the military, much like what happened in MSPM. I was starting to lose interest around #76. By then it was just way too much like MSPM but with more humor. Apparently this is coming back in the summer, hopefully it becomes a little less like that. Now, if you haven't read MS Paint Masterpieces this is an excellent comic.
Overall, I'd give it an 8/10 for the first 50 or so issues, and then after that, 6/10. For anyone who didn't read MSPM, than it's 8/10 the whole way through.
last edited on July 14, 2011 3:05PM
Normally, sprite comics and I don't get along, but this one has potential.

Sprite Usage:

Use of the sprites are well done. They are placed well for the current situation and well sized. None have been made so large or so small that you don't know what you're seeing. Expressions are also well used.

Originality:

As said before, the plot is very familiar and has been used. The dialog, however, is where i see the most creativity. Albeit the fight scenes have been impressive so far as well. Also, the jokes and punchlines have had me in stiches on occasion.

Overall: (8/10)
last edited on July 14, 2011 2:47PM
©2011-2012 WOWIO, Inc. All Rights Reserved