Comic Review
last edited on July 14, 2011 12:19PM
x3022
at 6:27PM, April 15, 2006
ahhh, well...

i just read thru the entire archive. and i did it because i like to give good reviews that can help, but it was rough reading through all of that. now, don't get mad. it was rough because, mostly, its just not my style. but i did it. yeah, i'm a great guy, yada yada yada.

ARTWORK - really dark. i don't full of angst, but instead too much black. hard to discern what's going on, hard to understand any action. there were pages where i had no idea what was going on. at all. i will say this, the artwork got a lot better as the comic progressed to the point that your recent characters sketches are much better than your earlier pages. so kudos to you there. my advice is to lay off the black and either using simpler action scenes or narration to explain what your pencil can't yet draw.

WRITING - here is the disclaimer i put in all of my reviews: writing means more to me than artwork and for good reason. good writing and bad art can still be a good comic. bad writing and good art cant. my opinion but one that i've formed over 30 years of reading comic books, studying art and creative writing and having been paid for both. so, having said that, your writing needs lots of work. it is disjointed for most of the story. it's full of spelling errors and chat dialogue (whatever that's called) that, in my opinion, distracts from the type of story you're writing. your type of comic would really, really benefit from narration. big time. don't be afraid of narration. by using only dialogue, you are forced to skip all the back story, the history, of your comic. readers want that. so, my advice is to make liberal use of narration, watch your word use and keep plugging away. because, honestly, the fact that you're making comics and putting them up for all to see (and asking for critiques on this thread) tells me you're serious enough that you can improve and be a better artist for it. best of luck and keep working hard!
last edited on July 14, 2011 4:52PM
I like the idea of a story where there used to be a hero around and now the hero isn't there anymore, and the world is suffering because of it...

But the way you're going about this is wrong. You're not giving yourself enough space to tell the story. You're sticking with small panels and sticking characters that look too similar into them. You don't do speech bubbles in a way that's easy to read, and there's too much gray and not enough background.

The story skips around at the begining and I don't have a good idea of what's going on.

Anyway all you need to do to improve is write the story before hand, try to make each character have distinguishing characteristics, use circular speech bubbles, and use more establishing shots. Possibly starting over with a more fleshed out story would help.
http://ccs1989.deviantart.com

"If one advances confidently in the direction of his dreams, and endeavors to live the life which he has imagined, he will meet with a success unexpected in common hours."
-Henry David Thoreau, Walden
last edited on July 14, 2011 11:37AM
Jakob
at 5:24AM, April 16, 2006
I'm very fond of greyscale, and it's perfect for the story you're telling. The art is improving which is good to. But as said, the panels are to small, to much black, unused space and sometimes the panels are badly placed, but since you are re-doing the comic you'll hopefully be able to change these things to the better. The story is interesting, and if you dealt with the mentioned problems you have the potential to do something really good.
last edited on July 14, 2011 1:06PM
Art: The art is pretty good and very dark. You need more use of backgrounds though, a lot more use. The characters are all in all pretty good and you are consistant I think.
Just lacking in backgrounds, especially in the pages where there are fight scenes showing the characters doing what look like karate/kungfu moves. Way too much blank space there and just seems weird.
Another problem was your writing. Sometimes the letters were white, grey, black, etc., sometimes all those colors in a line. Just use black and don't use lines to point to characters who are saying the words. Use dialogue bubbles and what not. They are much better and more organized. I looks very amateurish to use lines and have the writing not consistent in color.
The later artwork is rather good (the two newest posts). The last one is especially really good because that character with the wrap on his face is really awesome looking. Reminds me of Naruto, only not, cause yeah.

Story: Psychotic, but interesting I think. It's hard to make too much judgement on the story because it's not nearly finished, and apparently you have decided to start over. You have a "The One" theme going on though, but inside of a head. So it's sort of like "The Cell" meets "The One" in a weird way. I think the characters develop okay, but you do start things way too fast in the beginning and gloss over what has happened to get the main character in the position he is in. You might consider starting with him already in the coma, and use flashbacks to show how he got there periodically through his journey in his mind. After the beginning the pace is pretty good, but a little fast.

Writing: This was the biggest flaw I saw in your comic. Lots and lots of grammar and spelling errors. Don't use "WTF" or any sort of internet acronyms or words (lol, lmao, etc etc.), because they look tacky and really degrade the seriousness of your comic. You have a LOT of sentences that don't start with a cap, which is very bad and annoying.

Overall: The comic has great potential to be one of those really amazing comics that everyone talks about. I love the artwork and the darkness in it. The story is interesting, but could use a lot more too it. I has potential, you just have to work a bit more at it :).
last edited on July 14, 2011 11:01AM
Frae
at 3:18PM, April 16, 2006
Thanks guys for the help. This is why I started over, I started noticing these problems and whatnot. I've decided to make it a graphic novel to, so I def. wanted to start over and make it worht reading. I look forward to any other help you all are willing to give and I hope that the restart will be more enjoyable for everyone on April 24th.
last edited on July 14, 2011 12:30PM
You know, if you can pull it off, showing a huge cityscape in 3 point perspective with the building stretching up and a video screen on the middle building with that TV on it and 'X-News' going would be a cool way to start the
story...
In fact I'll provide a sketch of what I'm talking about:
This was done with a tablet so it ain't much, but here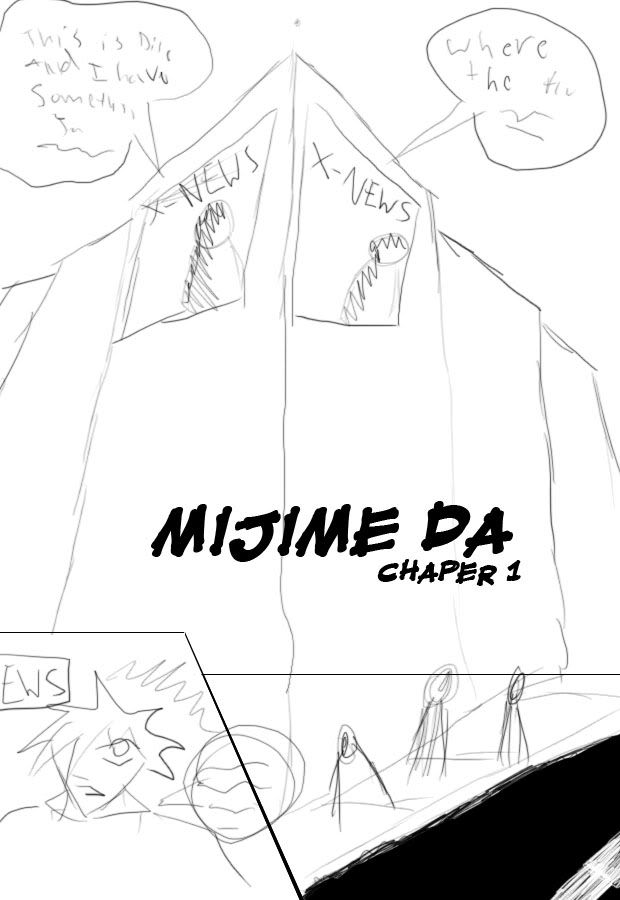 http://ccs1989.deviantart.com

"If one advances confidently in the direction of his dreams, and endeavors to live the life which he has imagined, he will meet with a success unexpected in common hours."
-Henry David Thoreau, Walden
last edited on July 14, 2011 11:37AM
Frae
at 7:47PM, April 16, 2006
thats a good idea but ive already canned that part. thanks so much for the help though! :D
last edited on July 14, 2011 12:30PM
©2011-2012 WOWIO, Inc. All Rights Reserved