So, I've been working on a new graphic novel story for quite a while, and I'm now in the character design stage. Because some of the character designs are based on artwork I had a friend of mine do and he hasn't sent me all his sketches, I only have a few characters drawn at this time, and none of them are the protagonist, so I decided to share the ones I have:
This is Stick Man. He is one of my earliest characters, and he appears in every single signature I've done since 2001. He is a supporting character in the story.
This guy is Stick Man's evil twin brother, who went through an experimental procedure in prison that made him human, thus why he has two different appearances. He's also a supporting character.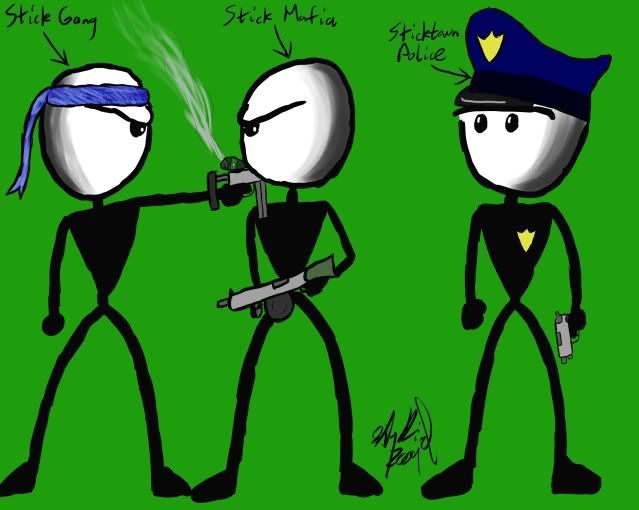 These guys are representatives of three different groups in Sticktown, the setting of the story. The two gangs are at war with each other, and the police incompetently do little to stop them.
This is Tubbo Crape, landlord of some really slummy apartments in town. He plays a very microscopic role in the comic because I can't stand his character.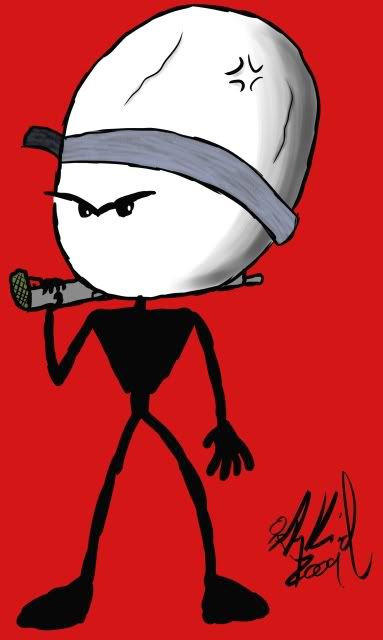 This guy's name is Wendell, and he's a clerk at a local convenience store, plus a bartender.
Finally, these two images are of Mr. Smiley, the main antagonist. One picture is of him as human, and the other is of his other form later on.
I will post more pictures when I make more.