going away - Hey Everyone Look What I Did!
Blood.Cannibalism.Corruption.
Frae
at 3:49PM, Feb. 19, 2006
Mijime Da, darling. Mijime Da has it! Check it
http://www.drunkduck.com/Mijime_Da/
Here are some gallery work: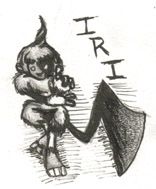 x3022
at 8:18PM, Feb. 19, 2006
I give you some serious bonus points for originality. Its a bit spooky for me (yeah, i get nightmares way to easily) but i'm sure lots of others will dig it.
last edited on July 14, 2011 4:52PM
Frae
at 9:52PM, Feb. 19, 2006
Frae
at 11:55AM, Feb. 20, 2006
yeah. He is running on an underground news station, but thats later in the story (much later heh heh lol)

AND DON'T BE SHY TO CRITQUE AND COMMENT
©2011-2012 WOWIO, Inc. All Rights Reserved