I'm very happy to announce that my manga 'The Beast Legion' will now be mirrored here on Drunkduck.com! This is my very first try at webcomics so I hope you can pardon an mistakes. I hope all of you enjoy it as much as I enjoy creating it. :)
You can now read the first four pages
HERE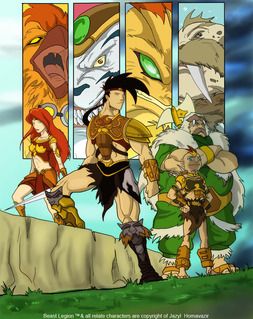 So here's a little synopsis of what to expect from this fantasy/adventure manga. I've been working on developing this concept starting late 2007 & decided to turn it to comic form in late 2009. My dream is to someday see it made into an Anime & I hope each & every one of you will enjoy it.
'THE BEAST LEGION' follows the exploits of a young prince, Xeus who is forced to flee his homeland after it falls under the tyrannical rule of the evil Dragos & his Shadow Nexus minions.

Prophecised to save his homeland from the chaos , Xeus embarks on his quest to overthrow the tyrant & bring peace back to his homeland of Lithopia. But in order to match up to the armies of Evil, Xeus must first master the secret of the 'Beast Transfer', pieces of armor that convert the one who wears them into a bestial form with Awesome powers.'
I will be uploading 4 new pages each week on Mondays & Fridays. However to read the the whole chapter at one stretch you can head on over to
http://www.thebeastlegion.com
for exclusive bios , image etc. We already have 3 issues up on the site.
And if you are on Deviantart you can join 'The Beast Legion Deviantart group' where I hold fortnightly art jams & activity at
www.thebeastlegion.deviantart.com
or join the Facebook club for the latest updates
http://www.facebook.com/home.php?#!/group.php?gid=111422328884223
I hope it lives up to your expectations. :)