going away - Art & Literature Corner

Rich
at 5:16PM, Oct. 3, 2006
You draw awesome shit like that and SLG wouldn't take your work? Is it because of the content?
last edited on July 14, 2011 3:06PM
...no, no...I havn't sent them anything since 2003.

It's been a while.



Woohoo! Awesome Zim pic! :D Gonna link it to some Zim fan site, if ye don't mind. I'll do that right after my exam next week.
last edited on July 14, 2011 12:23PM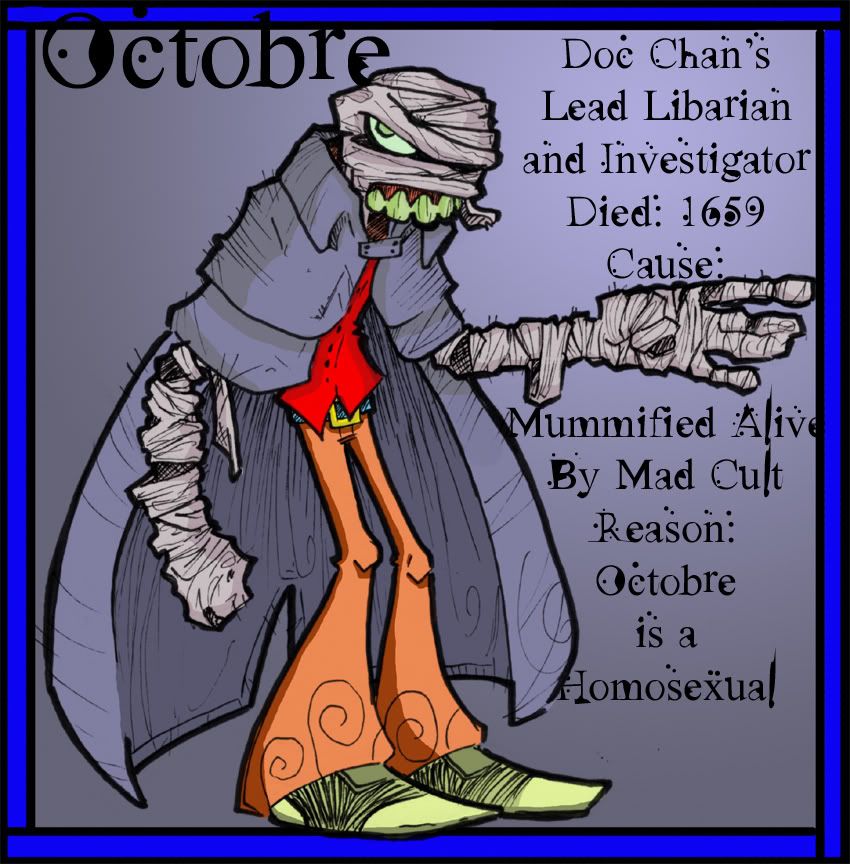 The name of this comic? It's in Doc Dhan's Picture.
Maxwell P Chan the Hunter of the Mystical and the Extrodenary.
Gena a Gorgon.
Octobre a Cursed Mummy.
Agustos Man of Electricity and Fate.
Baron Von Blink a Vampire.
Karion the Animal Necromancer.
Their pics will be posted soon and I'm writing a story up in my brains...bad guys you ask...yea, here's a list of bad guys:
Houdini, P.T. Barnum, The Dog Faced Boy, Count Samson , The Fiji Mermaid, Chang and Eng Bunker, Joice Heth, the Guild of Monsters, Mr M. Benet , The West...well...most of the West.
This is a theme I play with a lot and am never sick of, that being historical remixes. I'm making Houdini live in a differant era because he is the lead skeptic. He did this in the 1920's. I'll be bumping this back to 1840's. Eh...that's because Barnum is running around in the mid 1800's and the 1800's is my favorite era in America. That and the sixities and the Depression.



last edited on July 14, 2011 4:00PM
©2011-2012 WOWIO, Inc. All Rights Reserved